Nail Foils Holographic Oil Design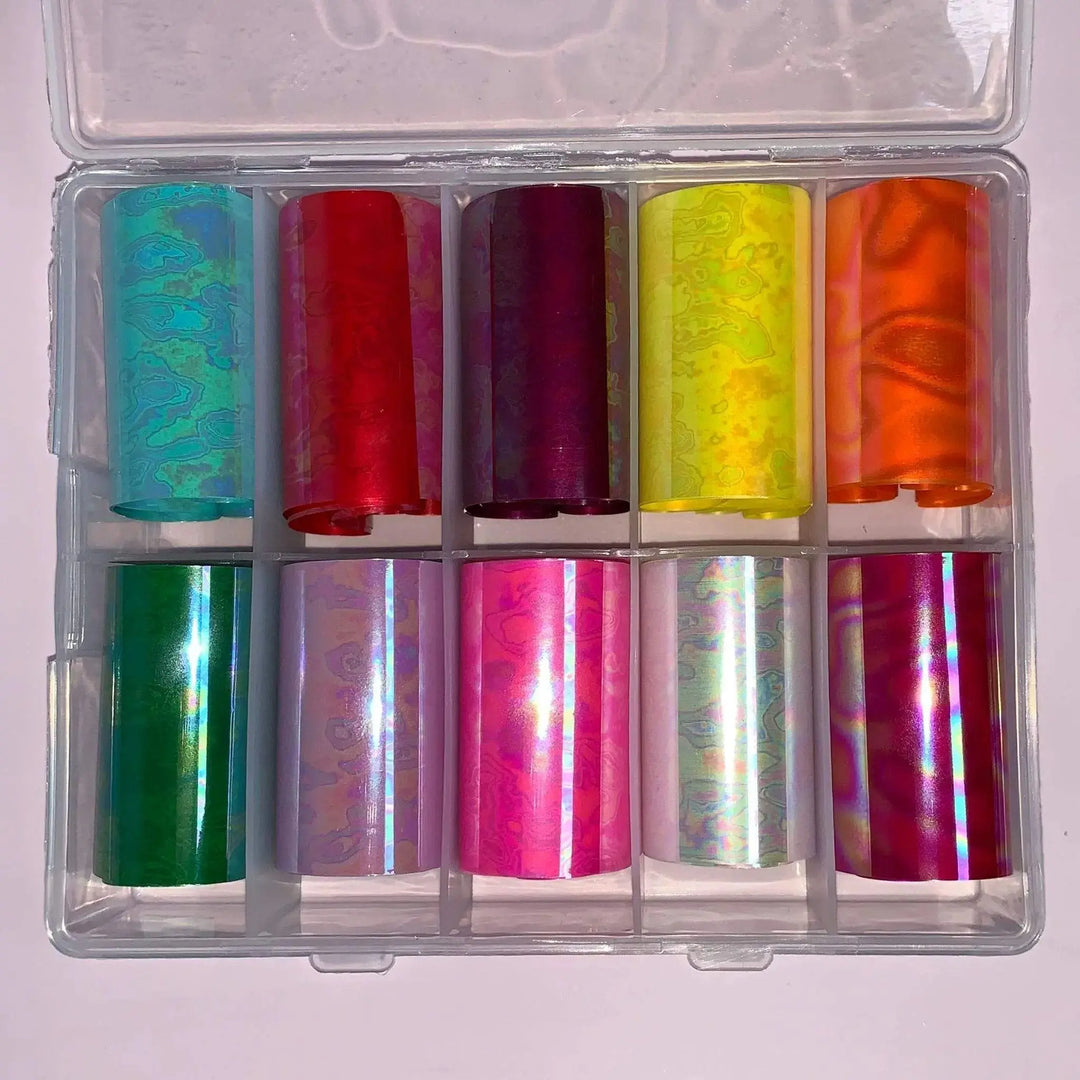 Featuring intricate and beautiful designs, WowBao nail foils are a quick way to achieve flawless, professional salon styled nails. These foils make it easy to create unique looks for clients to love. To be used with our foil gel to create beautiful and long-lasting nails.
How to use it:
Step 1: Apply a thin layer of Wowbao Foil Gel then cure in Wowbao LED Lamp for 60 seconds
Step 2: Place the nail foil onto the tacky layer of the nail and use wowbao tweezers rubber to press it until the foil transfers
Step 3: Apply a thin layer of Wowbao Base Coat and finish off with the Wowbao Top Coat for the best results
𝙋𝙡𝙚𝙖𝙨𝙚 𝙣𝙤𝙩𝙚: 𝙊𝙪𝙧 𝙥𝙧𝙤𝙙𝙪𝙘𝙩𝙨 𝙖𝙧𝙚 𝙞𝙣𝙩𝙚𝙣𝙙𝙚𝙙 𝙛𝙤𝙧 𝙥𝙧𝙤𝙛𝙚𝙨𝙨𝙞𝙤𝙣𝙖𝙡 𝙪𝙨𝙚 𝙤𝙣𝙡𝙮. 𝙒𝙝𝙚𝙣 𝙮𝙤𝙪 𝙗𝙪𝙮 𝙩𝙝𝙞𝙨 𝙞𝙩𝙚𝙢, 𝙮𝙤𝙪 𝙖𝙜𝙧𝙚𝙚 𝙩𝙝𝙖𝙩𝙮𝙤𝙪𝙖𝙧𝙚 𝙛𝙪𝙡𝙡𝙮 𝙩𝙧𝙖𝙞𝙣𝙚𝙙 𝙖𝙣𝙙 𝙦𝙪𝙖𝙡𝙞𝙛𝙞𝙚𝙙 𝙩𝙤 𝙪𝙨𝙚 𝙤𝙪𝙧 𝙥𝙧𝙤𝙙𝙪𝙘𝙩𝙨.

Don't forget to tag our Instagram @Wowbaonails when using Wowbao products !
For help & Advice Join our Facebook Group: Wowbao Nails Support Group
Gorgeous Foils
These foils are stunning and will make a perfect addition to your nail art
WoW the best by far
These foils are soooooo easy to use to either do a full coverage nail or part nail. There's no need to keep lifting multiple times to check if there fully on !!! They really are that easy to use ...no crinkles or messy shifting, and just look at how pretty they are the designs look out of this world, wowbao you've stepped up once again to deliver a amazing quality product that actually works how it says it does
Girls you really won't be disappointed with these foils , grab them there definitely a must have 😍😍
WoW the best by far
These foils are soooooo easy to use to either do a full coverage nail or part nail. There's no need to keep lifting multiple times to check if there fully on !!! They really are that easy to use ...no crinkles or messy shifting, and just look at how pretty they are the designs look out of this world, wowbao you've stepped up once again to deliver a amazing quality product that actually works how it says it does
Girls you really won't be disappointed with these foils , grab them there definitely a must have 😍😍
Gorgeous Foils
These foils are stunning and will make a perfect addition to your nail art
WoW the best by far
These foils are soooooo easy to use to either do a full coverage nail or part nail. There's no need to keep lifting multiple times to check if there fully on !!! They really are that easy to use ...no crinkles or messy shifting, and just look at how pretty they are the designs look out of this world, wowbao you've stepped up once again to deliver a amazing quality product that actually works how it says it does
Girls you really won't be disappointed with these foils , grab them there definitely a must have 😍😍
WoW the best by far
These foils are soooooo easy to use to either do a full coverage nail or part nail. There's no need to keep lifting multiple times to check if there fully on !!! They really are that easy to use ...no crinkles or messy shifting, and just look at how pretty they are the designs look out of this world, wowbao you've stepped up once again to deliver a amazing quality product that actually works how it says it does
Girls you really won't be disappointed with these foils , grab them there definitely a must have 😍😍