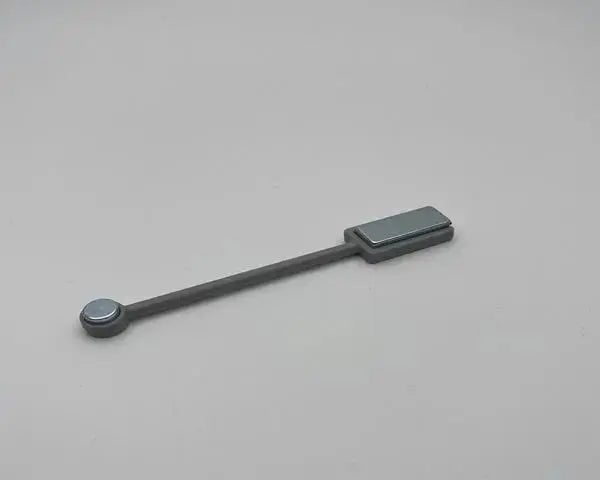 Our Cat's Eyes Magnet in Grey works with our Cat Eye Polishes. Simply hover the wand above the wet Cats Eye Polish and watch the designs come to life.
Step 1) Apply a Black Gel Polish Base Coat and cure.
Step 2) Apply your Cats Eye Polish, then use the magnets to create your unique design.
Step 3) Cure for 30 - 60 seconds under a LED lamp or 2 minutes under a UV lamp.
Step 4) Apply WowBao Diamond Shine Top Coat and cure for 60 seconds under our WowBao LED Lamp.
(You can use another Nail System's top coat and LED Lamp, however for best results we recommend you to use our WowBao system.)
Note: Our products are intended for professional use only. When you buy this item, you agree that you are fully trained and qualified to use our products.
Cat eyes
This didn't go to plan as I was not aware that you needed to use a darker colour as a base coat … Lesson learnt thanks to the group chat
Cat eyes
This didn't go to plan as I was not aware that you needed to use a darker colour as a base coat … Lesson learnt thanks to the group chat
Amazing
I absolutely love the cats eyes magnet it's so easy to work with and makes the gel look amazing x
Amazing
I absolutely love the cats eyes magnet it's so easy to work with and makes the gel look amazing x
Cat eyes
This didn't go to plan as I was not aware that you needed to use a darker colour as a base coat … Lesson learnt thanks to the group chat
Cat eyes
This didn't go to plan as I was not aware that you needed to use a darker colour as a base coat … Lesson learnt thanks to the group chat
Amazing
I absolutely love the cats eyes magnet it's so easy to work with and makes the gel look amazing x
Amazing
I absolutely love the cats eyes magnet it's so easy to work with and makes the gel look amazing x