BIB01 Clairity WOW brush on Builder in a bottle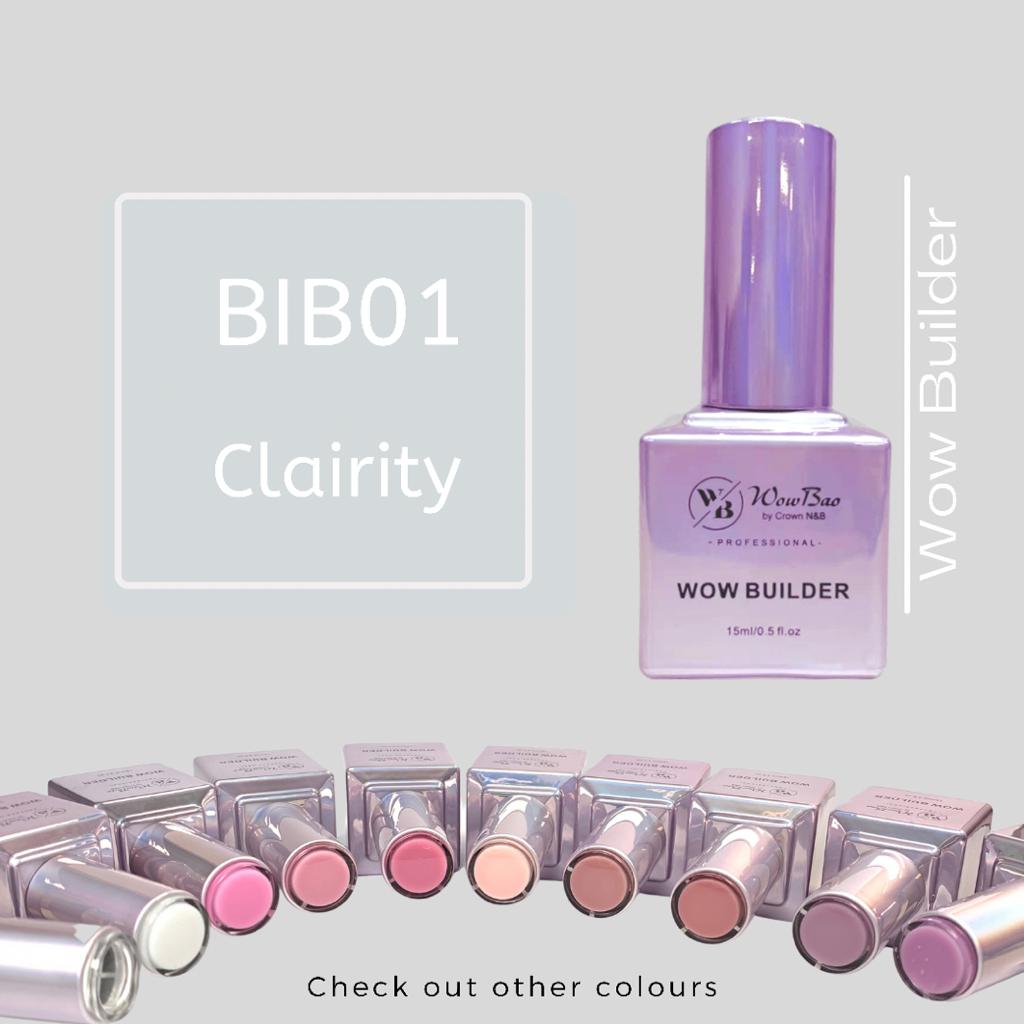 BIB01 Clairity WOW brush on Builder in a bottle
WOW BUILDER is a builder gel designed in a bottle ideal for sculpting , strengthening and extending short nails; available in 10 neutral shades. Cure for 60 seconds in a Wowbao Pro LED lamp. If using a lower wattage source, cure for an additional 1-2 minutes
How to use it:
1. Prep the nails
2. Apply a layer of Wowbao DuraBase all-in-one base coat to the entire surface of the prepared nails and cure under WowBao LED pro lamp.
3. Apply Wow Builder over nail to achieve desired thickness and length, curing after each layer.
4. Wipe with Wowbao nail surface cleanser
5. File, shape and smooth the nail, finish off with a layer of Wowbao Diamond Shine Top Coat then cure.

WowBao's latest innovation is expertly formulated to meet the needs of professionals and beauty enthusiasts alike. Achieve durable gel nails for up to three weeks wear time without the price tag; no chipping, smudging, nicks or dents. Apply and wear with confidence knowing that builder gel is 100% safe and compliant with all UK and EU safety regulations.
𝙋𝙡𝙚𝙖𝙨𝙚 𝙣𝙤𝙩𝙚: 𝙊𝙪𝙧 𝙥𝙧𝙤𝙙𝙪𝙘𝙩𝙨 𝙖𝙧𝙚 𝙞𝙣𝙩𝙚𝙣𝙙𝙚𝙙 𝙛𝙤𝙧 𝙥𝙧𝙤𝙛𝙚𝙨𝙨𝙞𝙤𝙣𝙖𝙡 𝙪𝙨𝙚 𝙤𝙣𝙡𝙮. 𝙒𝙝𝙚𝙣 𝙮𝙤𝙪 𝙗𝙪𝙮 𝙩𝙝𝙞𝙨 𝙞𝙩𝙚𝙢, 𝙮𝙤𝙪 𝙖𝙜𝙧𝙚𝙚 𝙩𝙝𝙖𝙩 𝙮𝙤𝙪 𝙖𝙧𝙚 𝙛𝙪𝙡𝙡𝙮 𝙩𝙧𝙖𝙞𝙣𝙚𝙙 𝙖𝙣𝙙 𝙦𝙪𝙖𝙡𝙞𝙛𝙞𝙚𝙙 𝙩𝙤 𝙪𝙨𝙚 𝙤𝙪𝙧 𝙥𝙧𝙤𝙙𝙪𝙘𝙩𝙨.