WOW ACRYGEL - True Blue 11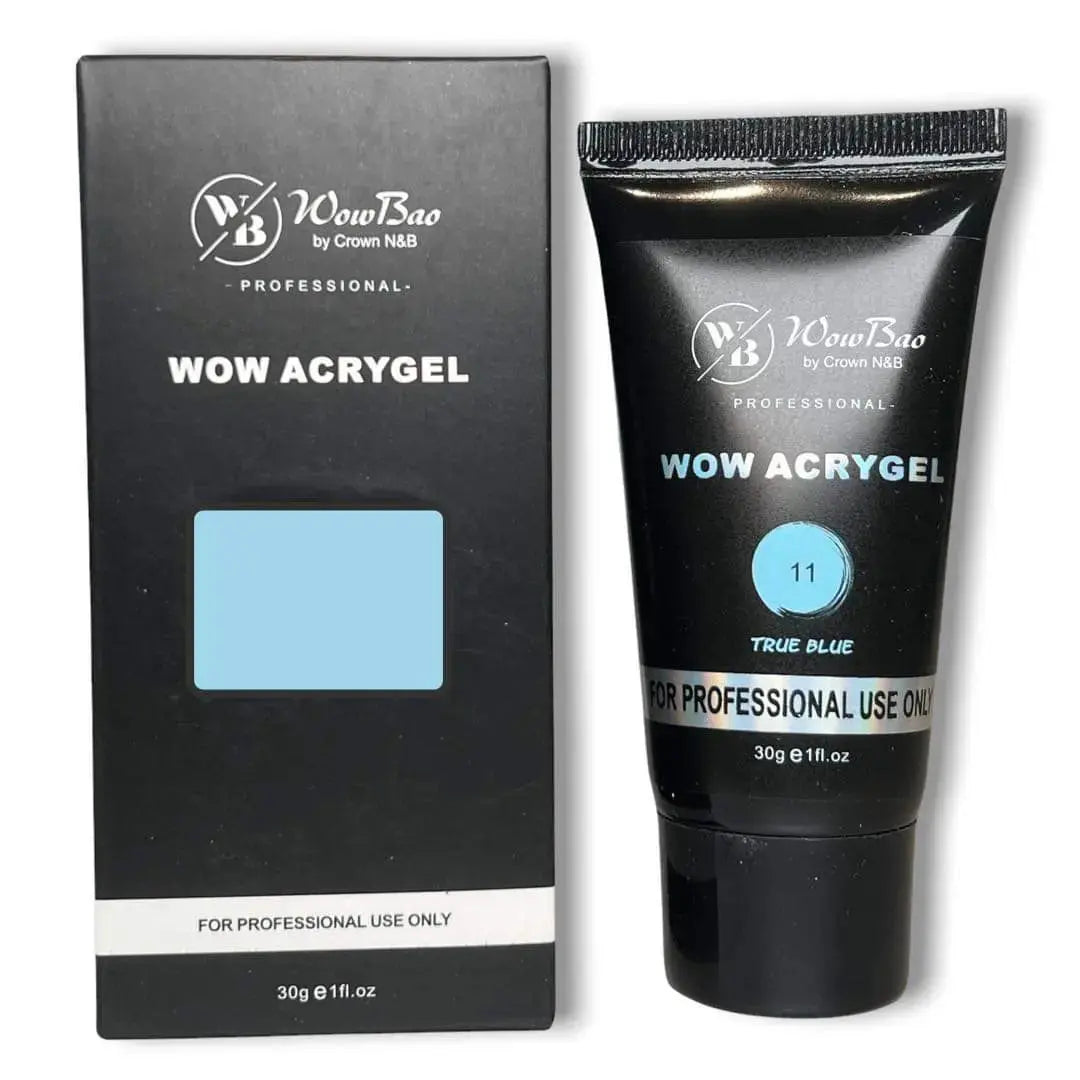 WOW ACRYGEL is an all-in-one created with a perfect working consistency. It can be applied as an overlay on your natural nails, or as a nail enhancement.
Directions: Use Wowbao spatula to get and place a bead of Acrygel on the nail, Use wowbao gel brush with wowbao sanitizer spray to form that bead on the nail. Cure for 30-45 seconds in Wowbao LED lamp. Other lamps might need longer curing time. Wipe the nail with wowbao nail surface cleanser then seal it with wowbao diamond shine topcoat 
Please be aware that all Wow Acrgel have been photographed with a daylight lamp and colour may vary slightly from the image shown.

𝙋𝙡𝙚𝙖𝙨𝙚 𝙣𝙤𝙩𝙚: 𝙊𝙪𝙧 𝙥𝙧𝙤𝙙𝙪𝙘𝙩𝙨 𝙖𝙧𝙚 𝙞𝙣𝙩𝙚𝙣𝙙𝙚𝙙 𝙛𝙤𝙧 𝙥𝙧𝙤𝙛𝙚𝙨𝙨𝙞𝙤𝙣𝙖𝙡 𝙪𝙨𝙚 𝙤𝙣𝙡𝙮. 𝙒𝙝𝙚𝙣 𝙮𝙤𝙪 𝙗𝙪𝙮 𝙩𝙝𝙞𝙨 𝙞𝙩𝙚𝙢, 𝙮𝙤𝙪 𝙖𝙜𝙧𝙚𝙚𝙩𝙝𝙖𝙩𝙮𝙤𝙪𝙖𝙧𝙚 𝙛𝙪𝙡𝙡𝙮 𝙩𝙧𝙖𝙞𝙣𝙚𝙙 𝙖𝙣𝙙 𝙦𝙪𝙖𝙡𝙞𝙛𝙞𝙚𝙙 𝙩𝙤 𝙪𝙨𝙚 𝙤𝙪𝙧 𝙥𝙧𝙤𝙙𝙪𝙘𝙩𝙨.
Such a pretty Blue
I absolutely love Acrygel, it is so easy to use, so for anyone not getting to grips with builder gel or acrylic, try this it's a doddle to use and you can take as long as you want to sculpt your nail
Such a pretty Blue
I absolutely love Acrygel, it is so easy to use, so for anyone not getting to grips with builder gel or acrylic, try this it's a doddle to use and you can take as long as you want to sculpt your nail
Such a pretty Blue
I absolutely love Acrygel, it is so easy to use, so for anyone not getting to grips with builder gel or acrylic, try this it's a doddle to use and you can take as long as you want to sculpt your nail
Such a pretty Blue
I absolutely love Acrygel, it is so easy to use, so for anyone not getting to grips with builder gel or acrylic, try this it's a doddle to use and you can take as long as you want to sculpt your nail