WOW CRYSTALS - The Neon (9240 crystals)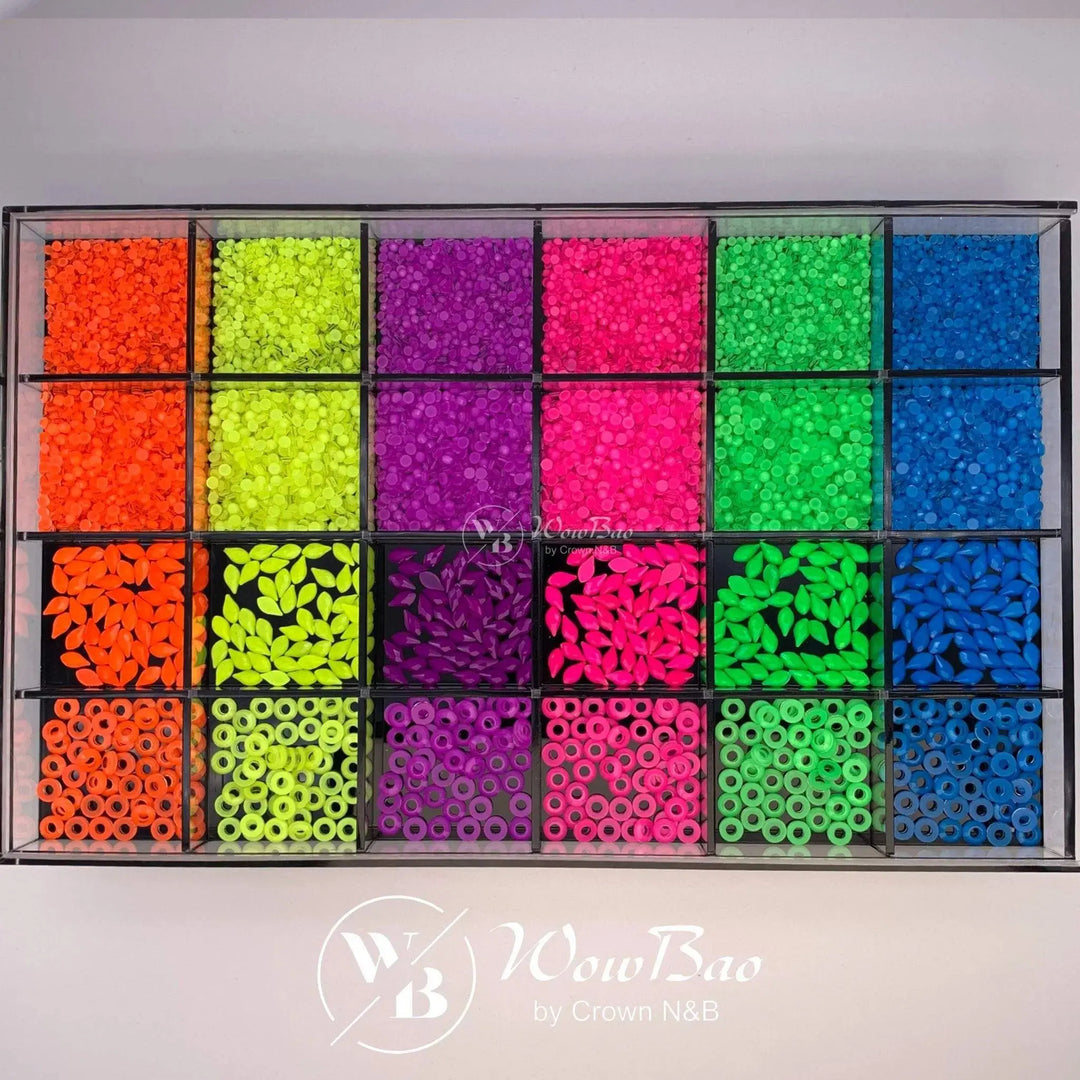 Wow Crystals add a shine of glam to any nail designs, they are the best Rhinestones you can find with reasonable price. Made by High-quality K9 Glass & designed in a special 24 grids acrylic box
Gems glue and gem tool are needed. 
This box includes 9240 crystals: 6 different colours of neon crystals. Each colour has 2 shapes and 2 sizes of round crystals. 50pcs each shaped crystals each colour and 720pcs each size each colour of round crystals 
• SS8(2.3-2.5mm)
• SS12(3.0-3.2mm)
How to use it:
Squeeze the right amount of WowBao Gems Glue on the cleaned nail surface (do not cure yet). Make sure not using too much so The crystals wont sink in the glue. 
Use Wowbao Gem Tool to pick up Wow Crystals and place them on the nail. And Cure for 1 mins under Wowbao LED lamp
Use WowBao diamond shine Topcoat to Seal around the Crystals (DO NOT put the topcoat cover on top of the crystals)
𝙋𝙡𝙚𝙖𝙨𝙚 𝙣𝙤𝙩𝙚: 𝙊𝙪𝙧 𝙥𝙧𝙤𝙙𝙪𝙘𝙩𝙨 𝙖𝙧𝙚 𝙞𝙣𝙩𝙚𝙣𝙙𝙚𝙙 𝙛𝙤𝙧 𝙥𝙧𝙤𝙛𝙚𝙨𝙨𝙞𝙤𝙣𝙖𝙡 𝙪𝙨𝙚 𝙤𝙣𝙡𝙮. 𝙒𝙝𝙚𝙣 𝙮𝙤𝙪 𝙗𝙪𝙮 𝙩𝙝𝙞𝙨 𝙞𝙩𝙚𝙢, 𝙮𝙤𝙪 𝙖𝙜𝙧𝙚𝙚 𝙩𝙝𝙖𝙩 𝙮𝙤𝙪𝙖𝙧𝙚 𝙛𝙪𝙡𝙡𝙮 𝙩𝙧𝙖𝙞𝙣𝙚𝙙 𝙖𝙣𝙙 𝙦𝙪𝙖𝙡𝙞𝙛𝙞𝙚𝙙 𝙩𝙤 𝙪𝙨𝙚 𝙤𝙪𝙧 𝙥𝙧𝙤𝙙𝙪𝙘𝙩𝙨.