Perfect Nail Tips | Extra Long Stiletto WB1-06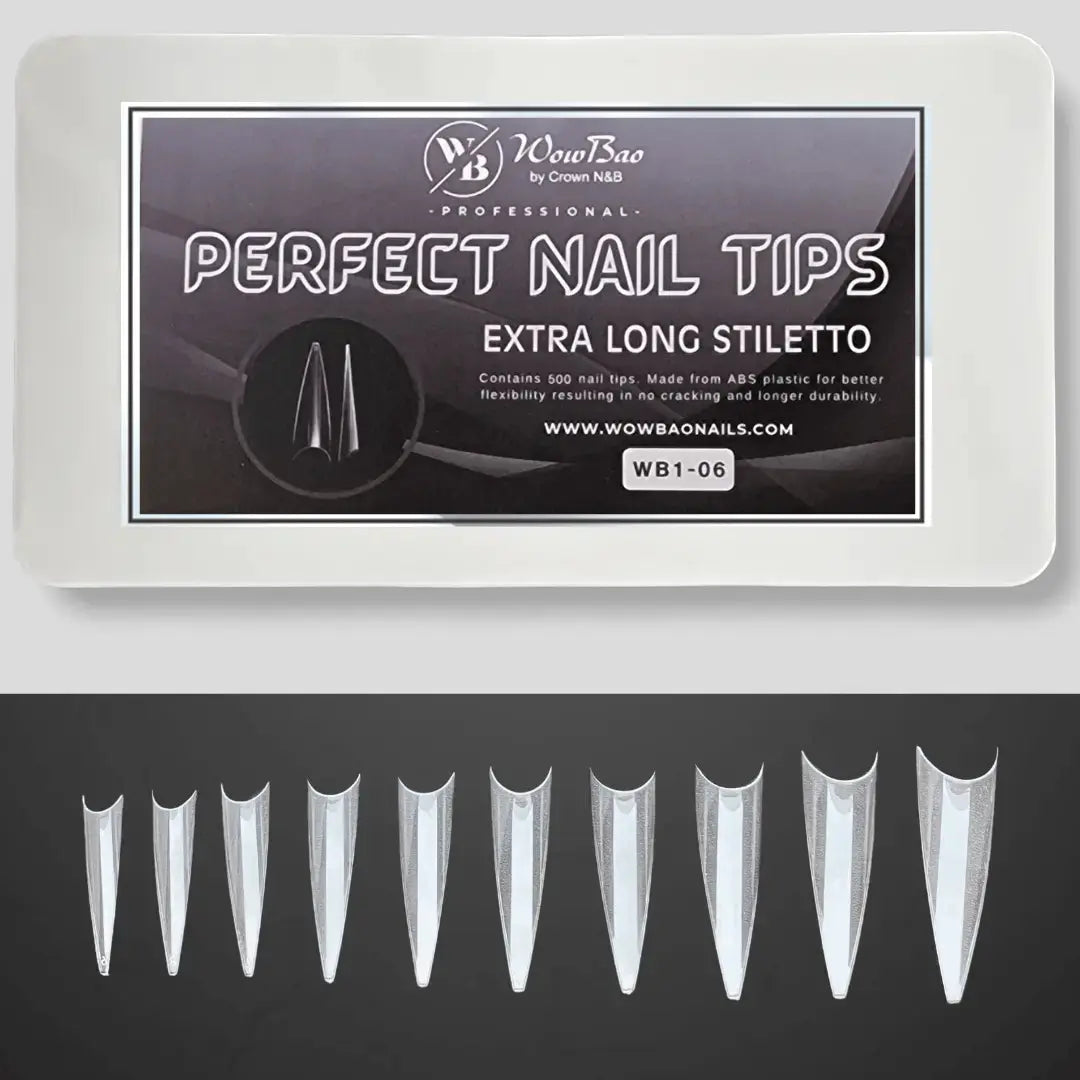 WowBao Perfect Nail Tips create the perfect look with our extra-long perfect nail tips, a set of nail tips made for professional results. Made from High quality ABS plastic for better flexibility resulting in no cracking and longer durability. These nail tips can be shortened and shaped according to client preferences with great results.
Box contains 500 tips from size 0 to 9.
Colour: Clear
None C-curve
Length: Extra long
Check out WowBao's huge range of Perfect Nail Tips. 
𝙋𝙡𝙚𝙖𝙨𝙚 𝙣𝙤𝙩𝙚: 𝙊𝙪𝙧 𝙥𝙧𝙤𝙙𝙪𝙘𝙩𝙨 𝙖𝙧𝙚 𝙞𝙣𝙩𝙚𝙣𝙙𝙚𝙙 𝙛𝙤𝙧 𝙥𝙧𝙤𝙛𝙚𝙨𝙨𝙞𝙤𝙣𝙖𝙡 𝙪𝙨𝙚 𝙤𝙣𝙡𝙮. 𝙒𝙝𝙚𝙣 𝙮𝙤𝙪 𝙗𝙪𝙮 𝙩𝙝𝙞𝙨 𝙞𝙩𝙚𝙢, 𝙮𝙤𝙪 𝙖𝙜𝙧𝙚𝙚𝙩𝙝𝙖𝙩𝙮𝙤𝙪𝙖𝙧𝙚 𝙛𝙪𝙡𝙡𝙮 𝙩𝙧𝙖𝙞𝙣𝙚𝙙 𝙖𝙣𝙙 𝙦𝙪𝙖𝙡𝙞𝙛𝙞𝙚𝙙 𝙩𝙤 𝙪𝙨𝙚 𝙤𝙪𝙧 𝙥𝙧𝙤𝙙𝙪𝙘𝙩𝙨.

Don't forget to tag our Instagram @Wowbaonails when using Wowbao products !
For help & Advice Join our Facebook Group: Wowbao Nails Support Group
Extra long stiletto tips
Fantastic products and company highly recomed and I don't won't use any other product
Extra long stiletto tips
Fantastic products and company highly recomed and I don't won't use any other product
Best ever used
Best stiletto tips I've ever used really pleased I found you guys and delivery was super fast. Brilliant all round
Best ever used
Best stiletto tips I've ever used really pleased I found you guys and delivery was super fast. Brilliant all round
Love them. Will not go back to my old brand
Extra long stiletto tips
Fantastic products and company highly recomed and I don't won't use any other product
Extra long stiletto tips
Fantastic products and company highly recomed and I don't won't use any other product
Best ever used
Best stiletto tips I've ever used really pleased I found you guys and delivery was super fast. Brilliant all round
Best ever used
Best stiletto tips I've ever used really pleased I found you guys and delivery was super fast. Brilliant all round
Love them. Will not go back to my old brand